Haunting 101 Video Walkthrough
Ghost Master Video Walkthroughs
Welcome to our Video Walkthrough for Haunting 101 from Ghost Master. Below the video you'll find additional information and tips for the walkthrough. You can also check out our Haunting 101 Walkthrough.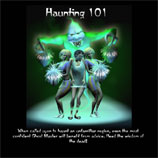 Haunting 101 Video Walkthrough Summary
1. Wake the person sleeping upstairs and don't let anyone linger up there too long.
2. Use Cogjammer to free Weatherwitch after you hit the sleeper upstairs.
3. Once you have freed Weatherwitch and scared the people, don't let up on them.